Posted by Pieter van Reisen
On 18 April 2019
0 Comments
In recent months FrieslandCampina has worked hard to realise the People Portal. The People Portal, a single point of entry in which personalized information, HR policy, processes and various systems, including Success Factors, are brought together for the FrieslandCampina employee.
Objectives of this initiative included a superior employee experience, clarification of employer branding, and bringing various talent, performance and reward initiatives to life. A showcase in which HR information and solutions come together.
Ambitious objectives that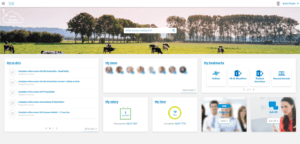 were achieved with the HuRis Digital Workplace. Today the first version of the FrieslandCampina People Portal went live worldwide for all employees. A first version, because the People Portal will be continuously expanded and further developed in order to continue to improve the employee experience in an agile way and to make more and more content available. More information about the HuRis Digital Workplace can be found herehere.komen.Ambitieuze